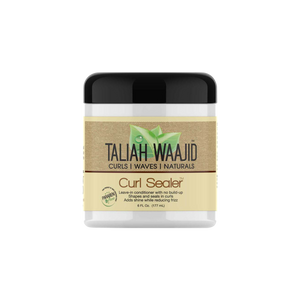 Taliah Waajid Curl Sealer 6oz
Taliah Waajid Curl Sealer is an alcohol-free conditioning styling gel that helps stop frizz in its tracks. It adds moisture and definition while it shapes and seals in any size or texture for great, lasting curls. Taliah Waajid Curl Sealer's "diffuser" formula ensures a smooth, fresh-smelling application every time you use it. Curl Sealer dries invisible to give you soft, manageable curls that will shine without ever going flaky on you. It also holds hair in place for styles such as ponytails, pinups and twist outs.
Love it
This is a super lightweight product with a soft hold and great next day curl factor LoNg As I pineapple with my silk scrunchie and sleep on My satin pillow cases. A new must haVe for my StYling arsenal
A Little Goes Along Way
I am still using this product. It's light and doesn't weigh the hair down.
Taliah Waajid Curl Sealer 6oz