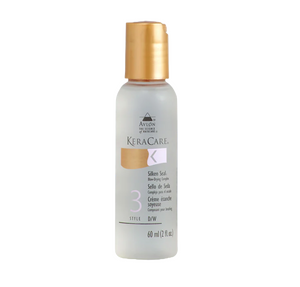 KeraCare Silken Seal Blow-Drying Complex 2oz.
An extraordinary silicone laminate that seals cuticle surfaces for high sheen and remarkable softness. Each hairstrand assumes a silky-smooth finish. Hair flows with body. Significantly reduces styling stress, mechanical damage and breakage (Styling combs and brushes glide through hair during blow-drying.) Completely oil-free. Dries to a non-greasy finish. 
Eases wet and dry combing. Creates lush body and incredible shine. Leaves hair soft with an exceptional silky texture. Makes blowdrying hair easy to manage. Prevents hair breakage during blowdrying.