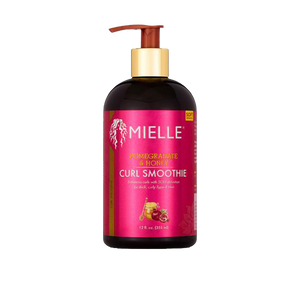 Mielle Pomegranate & Honey Curl Smoothie 12oz
Looking for organic hair products that are perfect for your Type 4 curls? Mielle has done it again. Our Curl Smoothie is 100% natural and contains no sulphates or parabens, and made with only the highest-quality ingredients. It uses certified organic pomegranate extract and honey, along with babassu oil to help lock in moisture and keep tresses looking gleaming and healthy.
Smells divine!
Didn't plan on purchasing, but my little brother's gf grabbed it and said it was in her hair right now. I read that it was formulated for Type 4 hair and was like "oh this is actually for me!"… I tried it a week ago for the first time and I loved how it felt on my damp hair, but I didn't think it would really define my curls so I also used Aunt Jessie's CurlMaker on top just to ensure definitio. Well the next day….. I couldn't stop turning my head! I kept getting a whiff of the pomegranate and honey. My hair was still in its twists, but I declared that it was a staple for me just on the scent alone; love it!